3月5日から26日にかけてインドネシア大学の日本語学科の学生むけに会話クラスを開催しています。
この日本語会話クラスの目的は、
・JLPT N3レベルの会話力を養う
・学生へのキャリア教育
の二つがあります。
普段、日本語や日本の社会、文化を学んでいる彼らに実践的なコミュニケーションの場の提供し、より高い日本語の会話力を身につけることで彼らの大学での学びの質を高めることを期待しています。
また、会話のトピックには、学生の将来のキャリアを考えることのできる内容を絡めています。
インドネシアでは、就職は大学を卒業した後に始めるというのが一般的で、キャリア教育があまり浸透していないです。意欲的な学生のうちに今までの自分のキャリアを振り返り、将来につなげる思考を養ってもらいたいと考えています。
学生はみんな積極的に会話クラスに取り組んでいます。クラスの中ではみんな日本人という意識を持って、会話を楽しんでいます。残り数回のクラスも学生が楽しみつつ知識、会話力を伸ばしていけるようにクラス運営をしていきます。会話クラスの参加者は、日本語学科の中でも、より日本企業への就職のためにインドネシアで日系企業の訪問や、ビジネスマナーなどを学ぶ学生団体"JAC(ジャパンアカデミアクラブ)"に参加している学生です。JACは、弊社が運営、サポートしている団体です。インドネシア以外にもベトナム、ミャンマーに支部があり、日本に興味がある学生と日本企業をつなぐサポートをしています。
【University of Indonesia】
Japanese conversation class was established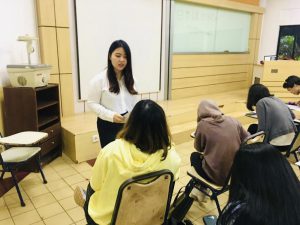 From March 5 to 26, a Japanese conversation class was established for Japanese language course students of the University of Indonesia.
The purpose of this Japanese conversation class is
・ To develop JLPT N3 level conversation skills
・ Career education for the students.
The students are learning about Japanese language, society, and culture at the university. We expect the students to enhance the quality of their study in university by providing an opportunity of practical Japanese communication and by acquiring higher conversation skills. Also, the topics of the conversations are related to their future career. In Indonesia, it is common to start looking for job after graduate from university, so the career education is not integrated there yet. Therefore, one of our aims is to cultivate students' career mind which is to think back about their past career and connect it to their future. Students enjoy the conversation class and in the class we consider that we all are Japanese people so that the students are talking much more positively. We are going to support them with full-power at the few left classes.
The participants are the members of a student organization named "JAC(Japan Academia Club)". JAC is the multinational organization of students studying Japanese and we manage and support their activities. There are three branches of JAC, aside from Indonesia, JAC also established in Myanmar and Vietnam. The students who are interested in Japan join JAC and they do some activities related to employment to Japanese company such as visiting Japanese company in their countries or learning Japanese business manners.